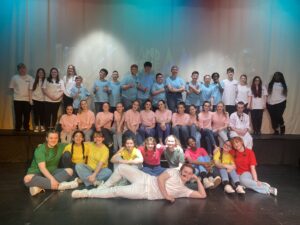 Performing Arts should engage, motivate and encourage learners to develop creative, artistic and performance skills. Performing Arts at MCS will build self-confidence, social skills and enable our learners to meet the 4 purposes, making them ready for the wider world. In line with MCS' vision, pupils will be pushed out of their comfort zone while in a safe environment and grasp how to self-regulate their learning by planning projects, controlling what they learn and evaluating their creative process/product in retrospect.
---
Key Stage 3
In KS3 learners get to explore all avenues that our BTEC Performing Arts course covers, i.e. Sound and Lighting, Acting, Singing, Dance and Make-Up as well as Costume and Props. They take workshops in various styles of the Arts looking at professional repertoire. They will then have opportunities to develop their Performing Arts skills alongside, team work, communication, concentration, memory and many others that become part of lifelong learning. Throughout KS3 the learners are able to express themselves through choreographing, script writing, composing, designing, creating and performing.
---
Key Stage 4
The Department offers a BTEC qualification in Performing Arts which is a practical based subject providing pupils with the opportunity to develop skills that will offer you multiple opportunities to experience a variety of career options in the Performing Arts industry. The disciplines offered include acting, singing, dance, instrumental, lighting, sound and make up. These give pupils a choice of on stage performances or behind the scenes experiences. Pupils will participate in workshop with professionals within the industry to gain a better knowledge about the possible career opportunities for them after they progress onto further education or employment.
---
Extra-Curricular
The department offers pupils free peripatetic lessons which include guitar, keyboard/piano and singing. Pupils are expected to take part in concerts such as our annual Christmas concert. They receive one 30 minute lesson a week in a small group, allowing individual instruction. MCS also offer Dance Club in which they learn styles such as Street Dance, Lyrical and Musical Theatre. The club then have the opportunity to compete in a championship against other schools. There are many opportunities for pupils to perform and develop their performance skills and confidence including the annual school production which have always showcased the talent of our pupils. We also have performed in many other community based projects.
---
Meet the team
The department has two full time teachers who specialise in different areas of the music and performing arts industry. Many of the peripatetic staff are professionals offering pupils real life career and work advice. These are the staff within the department:
Mrs Allison Gough – Teacher of Performing Arts and Drama Specialist
Miss Ace Abraham-Jones – Teacher of Performing Arts and Dance Specialist
Mr Jeff Rees – Guitar/Drums specialist